Illinois State University Peace Corps Alumni
The alumni below studied at Illinois State, served with Peace Corps, and launched their careers. These individuals were part of the Master's International Program, which Peace Corps ended nationwide in fall 2016.
Lauren Karplus
Peace Corps Master's International, 2014 Political Science 
Lauren Karplus graduated from the University of Illinois at Urbana-Champaign with a bachelor's in international studies and German. At Illinois State, she worked as a graduate research assistant before departing for Peace Corps service. 
Lauren served in Swaziland, where she researched the relationship between food aid and food security, primarily through interviews with front line staff. She was the national director of Girls Leading Our World (GLOW) Swaziland, and she spearheaded the switch from English-based programming lead by Peace Corps Volunteers to SiSwati-based programming lead by local stakeholders. Lauren continues to manage the GLOW Network Facebook page. 
"Both my coursework and Peace Corps experience have reinforced my desire to have a career in public service, either with an NGO or the government," Lauren said. "I find the world interesting and myself competent thanks to my coursework."
Lauren currently works at the University of Illinois at Urbana-Champaign as an international advising specialist. She assists international students and scholars with their immigration statuses and creates cultural programming. 
Sean Moore 
Peace Corps Master's International, 2010 Sociology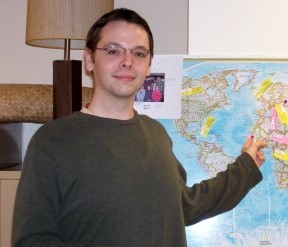 Sean Moore earned a bachelor's in integrative studies focusing on leadership and conflict resolution from George Mason University. During that time, he became interested in sociology coursework and decided to pursue a graduate degree. 
"For me, sociology offered not only an insight into the processes of development and a critical eye towards its goals, but it offered a perspective that was sensitive to cultural dynamics in developing area," noted Sean. Finding the Stevenson Center a supportive and productive educational environment, he appreciated creative debates with his fellow graduate students. 
Sean served in Mauritania in West Africa as manager of a Young Girls' Mentoring Center as part of the Peace Corps Girls' Education and Empowerment program. In addition to challenging the gender gap in education, he helped construct programming and coursework to build life skills. 
After Peace Corps, Sean finished a teaching fellowship for the non-profit WorldTeach in the rural Western Hunan province of China. He then served as a teacher at Chongqing University of Technology for a short-term Peace Corps Response position. Sean stayed after his position ended, working in different capacities, including project manager for Teach for China and as an ESL teacher in Guangzhou. 
Ambuj Neupane
Peace Corps Master's International, 2013 Applied Economics 
Ambuj Neupane earned a bachelor's in economics from the University of Hawaii at Manoa. After working as a graduate research assistant at the Stevenson Center, he served as a community economic development volunteer with the Peace Corps in the Dominican Republic. 
Ambuj's work involved growing an agricultural cooperative in the San Juan de la Maguana region. In addition, he instructed women and youth business classes and taught financial planning to students. Ambuj helped in small business development in the local area. 
Currently, Ambuj works in Washington, D.C., for the U.S. Small Business Administration as a program analyst. To map out location for SBA's Historically Underutilized Business Zones program, Ambuj analyzes federal data. 
"Stevenson Center was fantastic - especially the staff who helped make such a unique program so awesome. The financial assistance was the deciding factor in choosing Illinois State, but I received so much more than that," Ambuj said. "I had a great group of colleagues and retain close friendships with many of them today. I met my wife through Stevenson Center's program. And I also got a great education that has helped me tremendously since graduating."